False Hope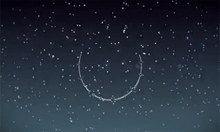 False Hope - part 1 of 2, I tried to make a clean and simple animations. Second part is "False Dream".
osch.se
My name is Olof Schröder - was born 1983 and I have been a geek since I got my first computer 1990. Currently I'm employed at E-kontakt.se in Norrköping, Sweden as a Front-end web developer. I also run a company together with Jacob Siverskog called Semantik.
I create sounds/music almost every day. And I like to share my sounds with you. Most of the songs are just stretched loops - some others are just eh sounds...
Music/Art is my main interest but I'm also a fisherman and snowboarder.
Music
Sorry, I really don't have anything to write about my music. I turn nobs, tweak samples, cut up loops.
Music - Older "finished" stuff, and some source files Reason and Ableton.
Music dump - This is where I upload all unfinished songs/loops/sounds. No quality check just a dump.